This
post
was originally published on
this site
The Big Number: U.S. households parked a record $2.67 trillion in the bank and in money-market funds during 2020, according to the financial accounts of the U.S., released on Thursday by the Federal Reserve.
What happened: The COVID-19 pandemic hit the economy hard, but the pain wasn't felt by everyone. While tens of millions of people lost their jobs or had their incomes severely reduced, many others were able to save a lot of money, in part because they weren't able to travel, go out on the town, or do a lot of other things they enjoy. The value of U.S. households' holdings in money-market funds and in personal checking and savings accounts rose by $2.67 trillion to $16.5 trillion during 2020, even though yields are close to zero.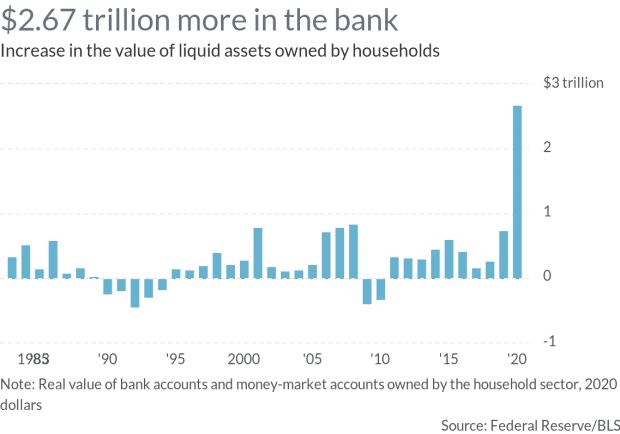 The economy may have crashed in 2020, but bank balances were a lot higher.
What it means: More than two-thirds of that cash—more than $11 trillion—is owned by the richest 10% of American families, and they aren't in any rush to spend it or invest it productively. In 2020, Americans acquired $3.3 trillion in financial assets, but very little was used to buy corporate equities, mutual funds or bonds, according to the Fed's data. Most of it just went into the bank.
The bottom 50% of the population has just a sliver of these liquid savings—a little more than $500 billion as of the end of the third quarter, or about 3% of the total.
Most likely, most of the $16.5 trillion in cash equivalents is going to stay right where it is, for a while at least. Most other financial assets seem too pricey or too risky, or both. The well-to-do will start spending more, sure, but they'll never make up for all those meals that weren't eaten last year, or all those Broadway shows that weren't performed, or all those weekends on the Continent that were canceled.