This
post
was originally published on
this site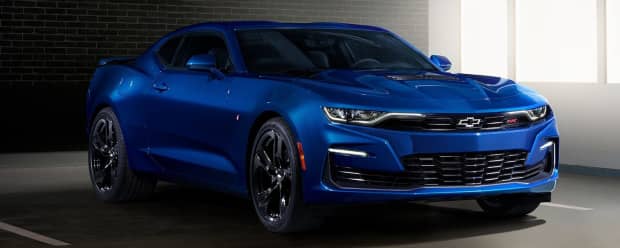 The 2021 Chevy Camaro
Chevrolet
Quick facts
The 2021 Ford Mustang is iconic, and it's one of the few non-SUVs or trucks Ford still builds.
The 2021 Chevrolet Camaro offers plenty of power for a reasonable price.
2021 Ford Mustang
Base price: $28,350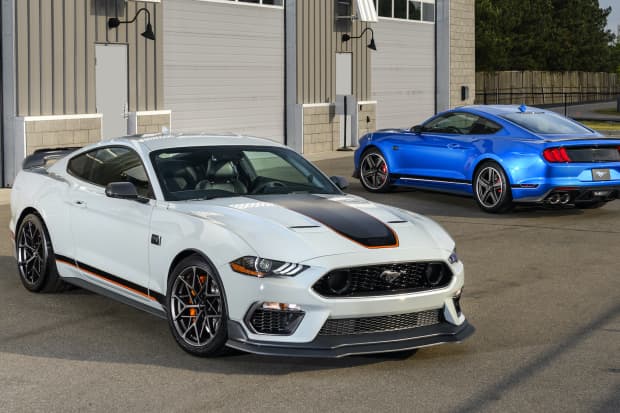 The Ford Mustang Mach 1 fastback coupe.
Ford
What we like: Tons of V-8 engine options; sports-car handling; high-quality interior.
What we would change: Tiny back seat.
Overview: As Ford F, -0.11% kills off many of its sedans and coupes in favor of SUVs and trucks, the Ford Mustang is still going strong. It's an integral part of American automotive history and a touchstone for many throughout the decades. It offers a variety of engines, transmissions, and body styles and is excellent for the automotive enthusiast with a love of all things American.
What's new for 2021: There's a new limited-edition Mach 1 Mustang, which replaces the Bullitt Mustang from last year. The Shelby GT500 gains a Carbon Fiber Track Handling package that combines the best features of last year's two yet mutually exclusive option packages, adding carbon fiber aerodynamic pieces, 20-inch carbon fiber wheels adjustable strut top mounts. Fresh paint choices are Antimatter Blue, Fighter Jet Gray, Carbonized Gray, and Grabber Yellow. Sadly the Shelby GT350 and 350R models have been discontinued (along with the Bullitt).
Features and technology: There's a vast number of options to choose from when it comes to the Ford Mustang — everything from the fuel-efficient EcoBoost engine to the type of transmission you want is available. At the top of the line is the 5.2-L V-8 engine in the Shelby GT500. You can also choose your body style — fastback or convertible.
Every Mustang gets the Ford Co-Pilot360 set of driver aids as standard, bringing forward-collision warning with pedestrian detection and automatic emergency braking, dynamic brake assistance, blind-spot monitoring with rear cross-traffic alert, lane-keeping assistance, automatic high beams, and rain-sensing wipers. A new Smart and Safe options bundle brings adaptive cruise control and navigation to EcoBoost and GT trims.
What does the future hold? The Ford Mustang is iconic, and it's clearly here to stay. The battery-electric 2021 Ford Mustang Mach-E is a Mustang in name and spirit only, and will probably share space in the lineup for the foreseeable future.
2021 Chevrolet Camaro
Base Price: $25,000

The 2021 Camaro
Chevrolet
What we like: Affordable performance per dollar; standard technology; four powertrain systems to choose from.
What we would change: Limited visibility; tiny back seat; lacking safety and convenience features like adaptive cruise control, even at the top level.
Overview: The 2021 Chevrolet Camaro brings a decade-long reputation for performance and everyday durability combined with modern features in an iconic muscle car.
What's new for 2021: There's a new vibrant Wild Cherry Design package for 2021.
Features and technology: There are eight different trim levels, all with different engines and transmissions available on the 2021 Chevrolet Camaro. There are also two different body styles; a convertible and a coupe. At the base 1LS, you get GM's GM, -2.70% My Link infotainment system, backup camera, keyless access with push-button start, 8-way power driver's seat, Bluetooth audio and phone connectivity, USB ports for music, and automatic headlights.
New for 2021, all Camaro models include wireless Apple AAPL, +2.11% CarPlay and wireless Android Auto phone integration. Step up the trims and models ladder to get things like upgraded wheels, xenon or LED headlights, and performance upgrades (like the 6.2-L V-8 engine), and convenience and lighting packages for your Camaro.
What does the future hold? Like the Mustang, the Camaro is here to stay, at least through 2023. Chevy may kill it off after that, though.
Mustang vs. Camaro: Strengths comparison
Mustang benefits: Lots of engine options plus safety and convenience features.
Camaro benefits: Affordability and horsepower.
2021 Ford Mustang vs. 2021 Chevrolet Camaro: Which is better?
The Camaro is a great value buy if you want as much horsepower bang for your buck. If you're looking for something with modern amenities like adaptive cruise control, the Ford Mustang is your best bet.
This story originally ran on Autotrader.com.